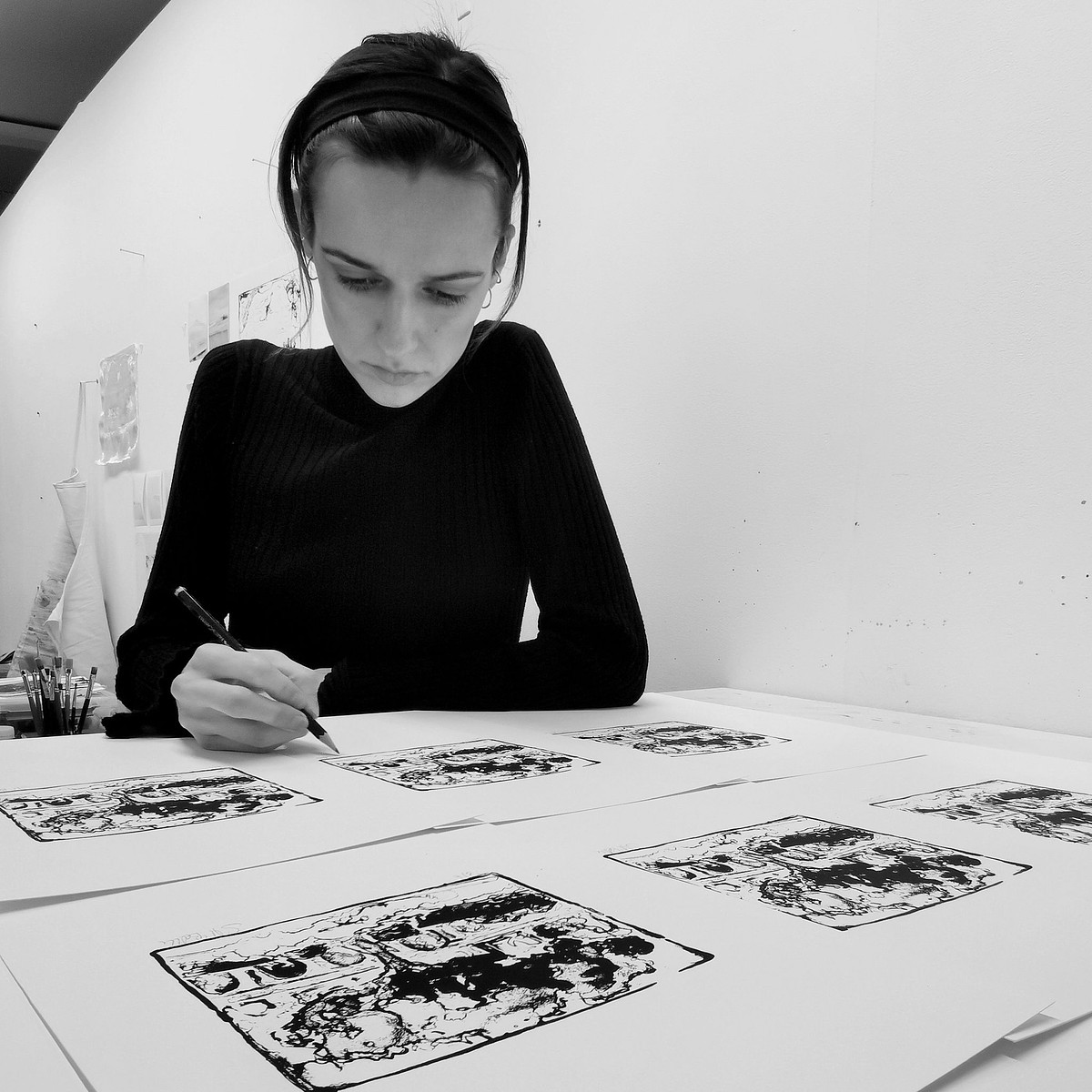 Svenja Michelle Behle (*1996, Berlin)

Svenja Michelle Behle is a Dublin and Berlin based print and mixed media artist. Her practice builds around the abstraction of reality through patterns and distortion of imagery from her memory and photography. She explores themes around place, memory and temporality and boils down experiences and moments into fantastical abstract landscapes that re-evoke a feeling rather than resemble a specific place. Capturing the ephemeral beauty, the ghosts of memories, like fever dreams of our transient time in space.

An extended stay in South East Asia of over three years and a background in painting have had a major influence on her work. She has participated in exhibitions by Dublin, Berlin and London based galleries and graduated from the National College of Art > Design, Dublin in 2023, winning Graduate Awards from the Black Church Print Studio and DamnFine Print Studio.
GROUP EXHIBITIONS
TWENTY ONE, 21st Birthday Exhibition at the Mermaid Arts Centre, Bray 14th July - 23rd September 2023
No Remedy for Memory, Graduate Show at the National College of Art > Design, Dublin 16th - 17th May 2022

Beyond

the

Material Surface at Fegan's Cafe, Dublin 16th - 17th May 2022
Kritkölln Beilage at Lebensmittel Projekt, Berlin 15th August - 11th September 2021
New Era Virtual Exhibition at
Art Number 23 Gallery, London/Athens
31st March - 21st April 2021
PERSONA Virtual Exhibition at
The Holy Art Gallery, London
13th March - 21st March 2021
NEW ERA Virtual Exhibition at
Albe Art Gallery, UAE
23rd February - 23rd March 2021
IDENTITY Virtual Exhibition at
The Holy Art Gallery, London
29th January - 12th February 2021


CV
Member at Visual Artists Ireland
Member at Black Church Print Studio, Dublin
DamnFine Print Graduate Award Winner 2023 _

DamnFine Print, Dublin including a 2 months residency in the studio



Black Church Graduate Awards Winner 2023 _ Education Award by the Black Church Print Studio, Dublin
National College of Art & Design, Dublin _ Bachelor of Arts, Department of Fine Art Print from 2019-2023
Internship at Bethanien Creative Center Berlin _ 5 months internship in the Print workshop (Druckwerkstatt des BBK) Lithography and Screen Print from April 2021 - August 2021

Art Teacher in cooperation with kindergartens, learning centers and private lessons in Hanoi, Vietnam _ Art teacher with kids aged 4 - 10 from May 2016 - December 2017